Steel Pipe Truss Structure for Stadium Stand Shed
Product Description
Model NO.: A - 015 Standard: GB, ASTM, DIN, JIS, AISI, BS Forming: Hot-Rolled Steel Member: Steeltruss Carbon Structural Steel: Q235 or Q345 Seismic Resistance: 9 Points Wind Resistance: up to 180km/H Service Life: 50 Years Structure Joint Type: Bolts Joint Steel Grade: Q235, Q345 Transport Package: Loaded in Containers Origin: China Type: Pipe Truss
Steel Structure
Trademark: Carbon Structural Steel, Sinoacme Connection Form: Welded Connection Type of Steel For Building Structure: High-Strength Steel Application: Stadium Stand Shed Components: Steel Column, Steel Beam, Steel Secondary Parts Building Type: Prefabricated Steel Structure Cladding Material: Steel Color Sheets/Sandwich Panels Installation Guidance: Yes Finish: Painted or Galvanized Specification: customized HS Code: 9406000090 General description of
Steel Pipe Truss
structure for stadium stand shed:
Steel pipe truss structure is a new advanced structure developed from Space frame . All parts making up a pipe truss structure are steel pipe bars. The pipe bars are connected by the method of welding, having been cut by intersection line cutting machine in advance. The steel pipe truss structure is widely used in the area of large span public buildings, such as exhibition halls, Terminal buildings, Stadium, Theaters, etc.
 Advantage of Steel pipe truss structure for stadium stand shed:
1. Light in weight, especially when applied as large span structures. 2. Excellent stability and aseismic performance, as the structure bears the load and spreads it to average directions. 3. Long service life up to 50 years.
Sinoacme Steel Structure Plant and Processing Machine: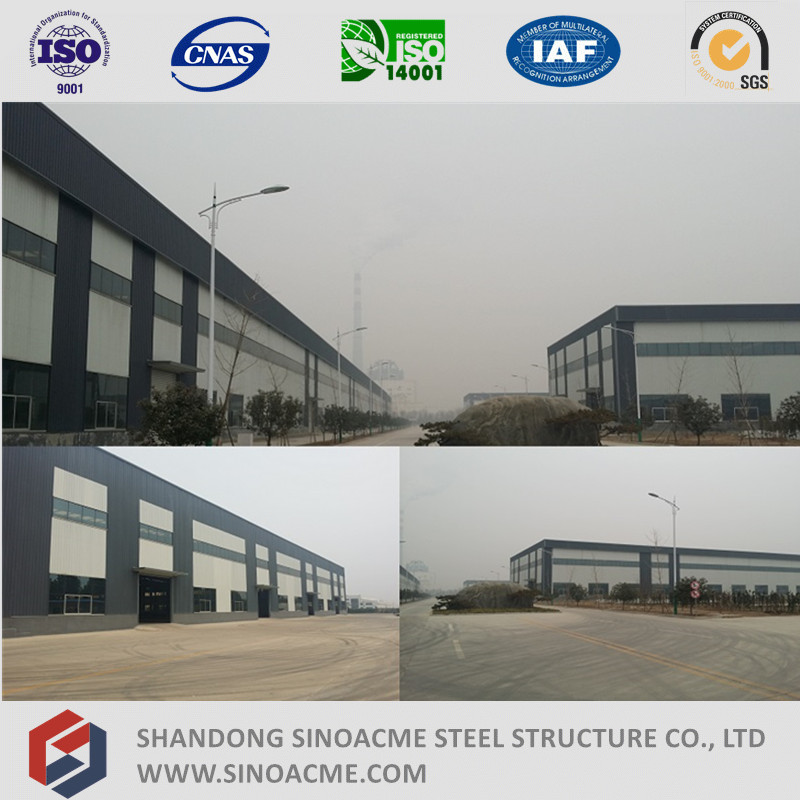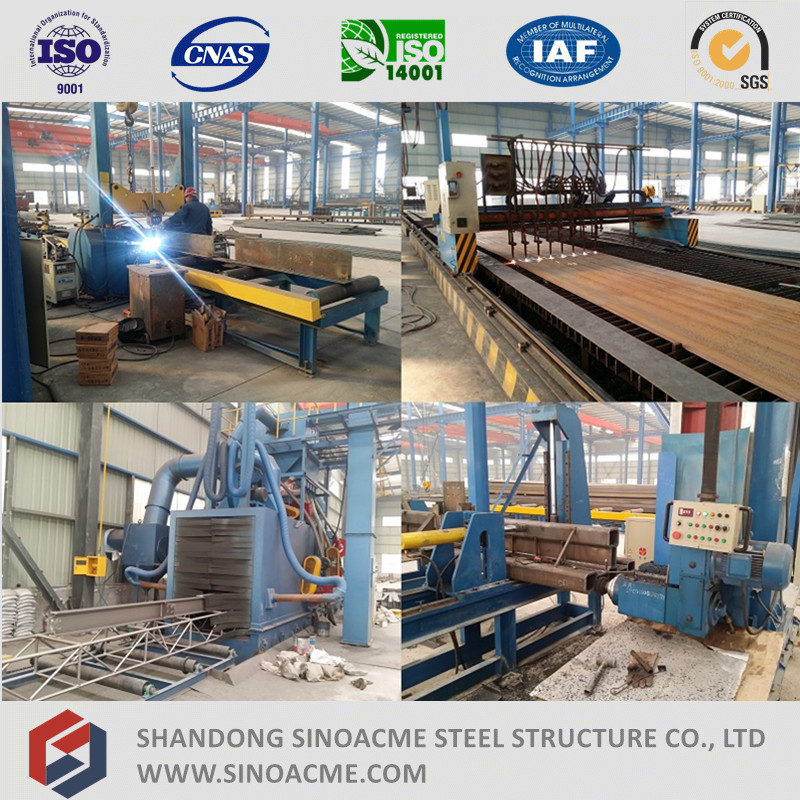 Benefits of prefabricated steel structures:
1. Lower Environmental Impact
Steel is one of the most sustainable construction materials. Its strength and durability coupled with its ability to be recycled, again and again, without ever losing quality, make it truly compatible with long term sustainable development.
2. Cost Effective and Quick to Build
Construction is quick and simple with the tugela steel portal frame system components. This means high quality results anywhere, using low-cost, low-skilled labour and shorter timeframes.
3. Strong and Design-flexible
Steel's inherent strength enables architectural and design flexibility
4. Durable and Safe
Exceptional resistance to fire, corrosion and pests, portal frame steel buildings are the first choice for extreme environmental conditions. Because steel doesn't need treating with pesticides, preservatives or glues, it's also safer for people handling and living or working around it.
5. Environmentally Friendly
Steel portal frame structures last longer, are light and easy to transport and create minimal raw material waste. At the end of its long life, steel can also be fully recycled.
6. Speed of Erection
Steel structures can be erected quite rapidly. This normally results in quicker economic payoff.
7. Repetitive Use
Steel can be reused after a structure is disassembled.
8. Quality of Construction
Steel structures can be built with high-quality workmanship and narrow tolerances.
9. Adaption of Prefabrication
Steel is highly suitable for prefabrication and mass production.
10. Ease of Repair
Steel structures in general can be repaired quickly and easily.
11. Fatigue Strength
Steel structures have relatively good fatigue strength.  
Our Advantages on Steel pipe truss structure for stadium stand shed:
1. Long History and Rich Experience in steel structure industry:
We have more than 12 years' experience with steel structure designing, manufacturing and
Steel Building
projects running. Now our projects stand in more than 40 countries around the world.
2. Advanced Equipment and Professional Production Line with Well-trained workers:
More than 200 skilled workers running the 6 steel structure production lines all year round to ensure the project finished on time. All equipment is up to standard and all the facilities are maintained periodically by professional technicians. 
3. Wide Range of Steel Structure Products:
Our products almost include all kinds of steel structure buildings, such as light steel workshops and warehouses, heavy industrial steel structure buildings, steel commercial buildings, prefab houses, container houses, steel structure aircraft hangars, space frame and pipe truss roofs, and mining belt conveyor galleries.
4. Solid Design and Management Ability:
We have more than 20 experienced engineers who are familiar with the structure design and management procedures of all steel structure projects.  There is a high-qualified, high-efficiency and professional technical team ready to find best solutions for you at any time.
5. Best Service and Qualified QC Management:
Every one of our marketing managers is well trained and willing to provide best services. And we have a strict standard for finished products testing, to ensure the quality of all our steel structures. Meanwhile we have also passed the ISO 9001 quality management system certificates.
Why choose Sinoacme Steel Structure Co., Ltd?
Pre-sale Services: 
1. Consultant service
2. Primay design
3. Assist client to choose suitable construction plan
4. Price calculation
Sale Services:
1. Submission of support reaction data for foundation
2. Submission of construction drawing
3. Providing requirement of embedding
4. Construction Manual
5. Fabrication & packing
6. Delivery
After-sale Services:
1. Installation supervision
2. Instruction of using after installation completed
General Structural Steel Calculation Parameters Required for steel structure projects: Location: ______(country) Dimension: Length______mm*width______mm* eave height ______mm Wind load: _____km/h, or _____KN/m2 Snow load: ______mm(maximum thickness), or ______ KN/m2 Seismic zone: ______zone, or ______grade Doors: height______mm*width______mm, ______ pcs Windows: height______mm*______mm, ______pcs Claddings: wall material: steel corrugated sheet with insulation, or sandwich panels: EPS, PU, Fiber glass wool Sunlight panel on the roof? Ventilator on the roof? Gutter: yes or no? Crane: yes or no? If yes, _____units, lifting weight ____T, and lifting height______mm Brick wall: height_____mm