Product Description
1. In wax pattern process,we mix stearic acid and paraffin wax in wax pattern making,as you know,it is better than polyethylene,and the wax deformation is small.
2. In dipping slurry process,most of the suppliers adopt water glass technics in domestic area,but we adopt compound technics or silica sol technics.As you know,carbon steel castings will be much smoother with compound technics (compound of water glass and silica sol technics),this method is so popular with our customers, and the quality is higher than water glass technics, the cost is lower than silica sol technics.
3. In shell making,we adopt automatic sand-covering production line, which was invented under the guidance of our general manager.The indoor temperature was controlled by air-conditions,keeping the temperature at 24℃±1℃, which can make the castings much more stable,the internal tissues much more well-proportioned.
4. In shell hardening process,we use aluminium chloride to harden the shell.This can make the shell so hard that it can`t be distorted,at the same time the bug which the casting may have will be decreased.If there are letters or numbers in it,they will be much clearer.
5. In dewaxing process,about 95% of the castings suppliers adopt the original water dewaxing technics,but we using the advanced steam dewaxing technics,which we are very proud of.This can effectively avoid the air-hole and sand-hole,making the casting look much nicer.
6. In smelt process,we use middle frequency furnace,avoiding the emergence of the oxide; in molten steel control part,we use Germany-imported direct reading spectrometer machine,assuring its quality before the molten steel out of the furnace.During this process we use ERP production and management software to get the feedback information.
7. In shell-knock out process,we have special machines,which can decrease the hitting and knocking, easily made by manual shell knocking out.
8. In shot-blasting process,we have crawler-type and hanging shot-blasting machine,with steel shot 0.5-0.8,making the products smooth.Of course,if the customer wants it look much nicer,we also can carry out sand-blast treatment.
9. In heat treatment process,we use electric furnace,and adopt double-temperature control in order to heat the products equally.As a result, the products will have great metallurgical structure.
10. Our tolerance can reach at the grade of 5-7 according to our country`s tolerance standard.
11. In machining process,we have 12 CNC machining centers and some other machines, so we can make further machining if the customers need.
12. Before package,we use the automatic drying machine to heighten the drying efficiency and make special treatment against rust in the transportation.
13. About package,we adopt Europe standardized fumigation-free wooden case.
14. About dimension measurement, we have 2 three-coordinates measuring machines; and about hardness measurement, we have brinell hardness tester and Rockwell hardness tester.
15. It should be noted that our manager is stepping with the pace of the information age,he invited the professor in the University of Shandong Province to create a special production and management software which we call ERP. This software makes every workshop connect with the management class,so that we can control the quality in every process in time,and we can store the information in order to inquire and manage.Only one goal:Quality is our unremitting pursuit!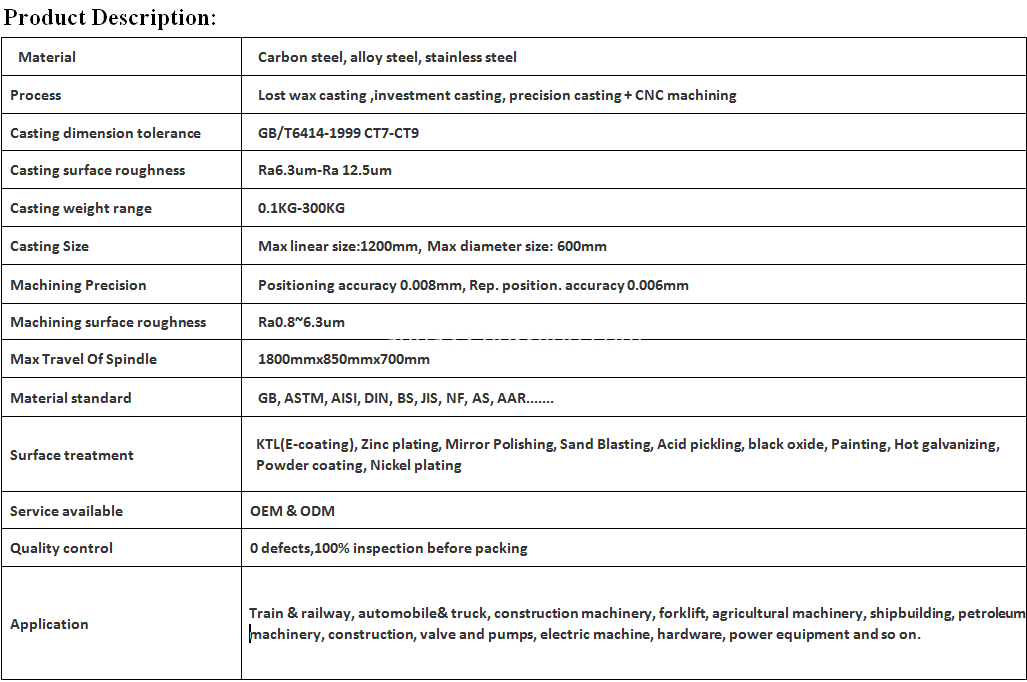 Wei fang Jun long precision casting co., LTD., the main products are precision casting of carbon steel, low carbon steel, medium carbon steel castings, high carbon steel, alloy steel precision casting, high manganese steel, high chromium steel, high nickel steel, a variety of materials such as precision casting products .The parts are mainly used in precision casting of auto parts, forklift parts castings, precision casing of ship parts, precision casting of train parts, mechanical engineering, petroleum machinery, mining machinery .Our products has been exported to more than 20 countries and regions in the world. Our company has cooperated with our customers with the business philosophy of integrity, pragmatism, professionalism and innovation, and won the unanimous praise of our customers
The company covers an area of 30,000 square meters, with more than 200 employees, 10 r&d personnel and 12 quality control personnel. There are three production lines, two composite process (i.e. silica sol + water glass), and one silica sol process. The annual output reaches 8000 tons, the enterprise has passed iso9001:2005 quality management system certification, and passed the national environmental protection department approval, has the formal environmental assessment certificate, is a household name of the green casting enterprise
All the assembly lines in the workshop are made by our general manager according to practical experience. The product quality can be guaranteed while greatly improving the work efficiency and reducing the workload for the workers. By the end of 2015, all the workshops of our company have been automated production .For example, automatic wax injection machine, automatic silicon sol process robot, automatic silicon sol process wind main line, automatic water glass process assembly line and curing pool, automatic pouring. Because they are all automated production, the quality of the shell is guaranteed in the early stage,Precision casting products with weight from 0.1KG to 500KG can be completed .Products with wall thickness as low as 3mm. Products with complex shapes.The defects of porosity, sand hole, slag inclusion, cold insulation, shrinkage and other casting defects are effectively avoided
Are main products of our company adopted complex process (silica sol + water glass), adopt the low temperature wax, four shell layer using silica sol process, three layer using water glass process, composite process to produce a product that no matter from the surface finish, and internal quality and silicon sol process almost the same, the price is cheaper than silicon sol process a lot, and water glass price though it's cheap, but the product is very rough, and composite technology products of good quality and low prices, the most suitable for large batch of products, can guarantee the quality of customer requirements, and can guarantee a reasonable profit space, so, Our foreign customers have been cooperating with us for 8 years, and we have cooperated very well.
Inspection: our company has special physical and chemical laboratory, with perfect inspection equipment (spectrometer, three coordinate measuring machine, metallographic analyzer, impact test machine, tensile testing machine, hardness tester, magnetic particle inspection machine, ultrasonic testing, etc.), can satisfy the customer different product requirements, and issue a corresponding test report
Processing: we have two horizontal machining center, CNC machining center, bench drill, vertical drilling machine, rocker arm drilling machine, milling machine, grinder, planer, CNC lathes and other all-round machining equipment
Wei fang junlong precision casting Co.,Ltd
Wei fang Jun long precision casting co., LTD., the main products are carbon steel, low carbon steel, medium carbon steel, high carbon steel, alloy steel precision casting, high manganese steel, high chromium steel, high nickel steel, a variety of materials such as precision casting products .The parts are mainly used in precision casting of auto parts, forklift parts,truck parts, ship parts, precision casating of train parts, mechanical engineering, petroleum parts investment casting, mining machinery .Our products has been exported to more than 20 countries and regions in the world. Our company has cooperated with our customers with the business philosophy of integrity, pragmatism, professionalism and innovation, and won the unanimous praise of our customers
The company covers an area of 30,000 square meters, with more than 200 employees, 10 r&d personnel and 12 quality control personnel. There are three production lines, two composite process (i.e. silica sol + water glass), and one silica sol process. The annual output reaches 8000 tons, the enterprise has passed iso9001:2005 quality management system certification, and passed the national environmental protection department approval, has the formal environmental assessment certificate, is a household name of the green casting enterprise
All the assembly lines in the workshop are made by our general manager according to practical experience. The product quality can be guaranteed while greatly improving the work efficiency and reducing the workload for the workers. By the end of 2015, all the workshops of our company have been automated production .For example, automatic wax injection machine, automatic silicon sol process robot, automatic silicon sol process wind main line, automatic water glass process assembly line and curing pool, automatic pouring. Because they are all automated production, the quality of the shell is guaranteed in the early stage,Precision casting products with weight from 0.1KG to 500KG can be completed .Products with wall thickness as low as 3mm. Products with complex shapes.The defects of porosity, sand hole, slag inclusion, cold insulation, shrinkage and other casting defects are effectively avoided
Inspection: our company has special physical and chemical laboratory, with perfect inspection equipment (spectrometer, three coordinate measuring machine, metallographic analyzer, impact test machine, tensile testing machine, hardness tester, magnetic particle inspection machine, ultrasonic testing, etc.), can satisfy the customer different product requirements, and issue a corresponding test report
Processing: we have two horizontal machining center, CNC machining center, bench drill, vertical drilling machine, rocker arm drilling machine, milling machine, grinder, planer, CNC lathes and other all-round machining equipment
Company Name: Wei fang junlong precision casting Co.,Ltd
Representative: ZhenYu Chen
Product/Service: Carbon steel precision casting , Alloy steel precision casting , Stainless steel precision casting , Investment casting , Precision casting , Lost wax casting
Capital (Million US $): 7000000RMB
Year Established: 2014
Total Annual Sales Volume (Million US $): US$2.5 Million - US$5 Million
Export Percentage: 81% - 90%
Total Annual Purchase Volume (Million US $): Below US$1 Million
No. of Production Lines: 3
No. of R&D Staff: 11 -20 People
No. of QC Staff: 11 -20 People
OEM Services Provided: yes
Factory Size (Sq.meters): 3,000-5,000 square meters
Factory Location: No2084 , eight road, Fangzi district, Weifang city, Shandong province,China
Contact Person: Ms. Anna
Tel: 86-0536-7669966